Book Blast Release for
Hemlock by Kathleen Peacock
In honor of Kathleen Peacock's debut young adult paranormal thriller releasing today, I am giving away an ARC of Hemlock and a really awesome bottle of "Mystical" purple nailpolish to go along with it. This amazingly fierce new debut should definitely be at the tops of everyone's "to-be-read" list this summer, because it is that smokin'! I read it and absolutely loved it, fell in love with the world and the atmosphere full of amazing characters too. It totally rocked my face off hardcore! You can totally read my review for it here.
So, if you haven't read it yet well then…WHAT ARE YOU WAITING FOR?!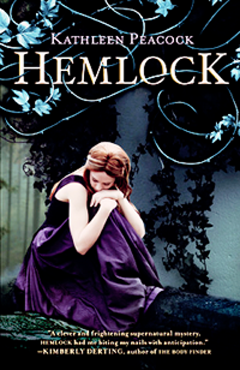 Hemlock
by Kathleen Peacock
Publisher: Katherine Tegen Books
Published: May 8, 2012
Pages: 416
Age Demographic: Young Adult
amazon | b&n
Mackenzie and Amy were best friends. Until Amy was brutally murdered.

Since then, Mac's life has been turned upside down. She is being haunted by Amy in her dreams, and an extremist group called the Trackers has come to Mac's hometown of Hemlock to hunt down Amy's killer: A white werewolf.

Lupine syndrome—also known as the werewolf virus—is on the rise across the country. Many of the infected try to hide their symptoms, but bloodlust is not easy to control.

Wanting desperately to put an end to her nightmares, Mac decides to investigate Amy's murder herself. She discovers secrets lurking in the shadows of Hemlock, secrets about Amy's boyfriend, Jason, her good pal Kyle, and especially her late best friend. Mac is thrown into a maelstrom of violence and betrayal that puts her life at risk.

Kathleen Peacock's thrilling novel is the first in the Hemlock trilogy, a spellbinding urban fantasy series filled with provocative questions about prejudice, trust, lies, and love.

* Summary taken from Goodreads.
The Super Sizzlin' Summer Debut Giveaway!!!
a Rafflecopter giveaway
Want to purcahse a copy of Hemlock by Kathleen Peacock?
You can totally purchase a copy of HEMLOCK by Kathleen Peacock by by visiting my Amazon Associate's Store just by clicking through and adding it to your shopping cart. Then, bam! You're done just like that, easy peasy. While you're there, feel free to look around, you might find something else you want. I hope you enjoyed reading my review of HEMLOCK. I definitely recommend picking up a copy for yourself or even for someone else, if you think they'll like it. Chances are, they probably will because it's awesome like that!
ABOUT KATHLEEN PEACOCK
Website || Twitter || Facebook || Goodreads
Kathleen spent her teen years crushing on authors and writing short stories about vampires. She put her writing dreams on hold while attending college, but tripped over them when office life started leaving her with an allergy to cubicles.
Author information taken from her Goodreads.