I was lucky enough to get to be a part of the BLOGGERS OF THE DEEP (VICIOUS DEEP) BLOG TOUR through Sourcebooks and I'm very excited to have some fun things going on – on the blog today that include a guest interview with Tristan from The Vicious Deep, an awesome giveaway for a copy of The Vicious Deep and review for the book. So, guys…help me make Tristan feel right at home on A Soul Unsung.
The Vicious Deep
by Zoraida Cordova
Publisher: Soucebooks Fire
Publication Date: May 1, 2012
Pages: 384
Age Demographic: Young Adult
amazon | b&n
For Tristan Hart, everything changes with one crashing wave.

He was gone for three days. Sucked out to sea in a tidal wave and spit back ashore at Coney Island with no memory of what happened. Now his dreams are haunted by a terrifying silver mermaid with razor-sharp teeth.

His best friend Layla is convinced something is wrong. But how can he explain he can sense emotion like never before? How can he explain he's heir to a kingdom he never knew existed? That he's suddenly a pawn in a battle as ancient as the gods.

Something happened to him in those three days. He was claimed by the sea…and now it wants him back.

* Summary taken from Goodreads.
❝My Thoughts❞
The Vicious Deep is a wonderfully action packed fish-out-of-water tale, that will captivate readers with its unexpected twisty-plot and hilarious yet sometimes sensitive male protagonist. It's full of wonder, creative narrative, and awesome moments of wow sure to get any readers blood pumping! Zoraida Cordova pens a delicious blend of humor, danger, and excitement. She manages to accomplish telling a brilliant mer-tale, by doing things a little differently than most mermaid books. Tristan is actually the sea creature, thrust into a situation that he knew absolutely nothing about and more than a little freaked about it. He is a wonderful character to get to know and readers will find him extremely likable, with his laid back ways and approach to dealing with things.
The vicious deep world that Zoraida Cordova builds, is simply breath taking and hauntingly beautiful. It feels as if readers are plunged into a world full of darkness and wonder, yet teaming with suspenseful murky secrets hidden in its depths. The characters are well developed and likable, the writing is strong and intriguing, and the story itself is highly engaging. The Vicious Deep is a fast paced enjoyable mer-tale that will have readers on the edge of their seats, craving the next installment. It's definitely an "at the top of the pile" to-be-read book for anyone who enjoys sparkling tales of underwater fantasy.
This isn't your typical mer-tale, what doesn't seem to work so much in other's, definitely works well in this one. It's sort of what sets it apart and makes it such an amazing debut novel. Readers will appreciate the lightness and witty humor that it provides, along with the dangers and the thrills beyond the sea. The romance is sweet and understated, never taking over from the main plot which is refreshing in so many ways. The Vicious Deep is a delightful novel that readers will not want to put down.

Character Interview With: Tristan
From The Vicious Deep
Hi Tristan, thanks for stopping by the blog today. Do you mind introducing yourself to us?
Hey everyone. I'm Tristan Hart, merdude extraordinaire.
If there was one word to describe yourself, what would it be and why?
Driven.
What's the current song playing on your iPod?
Judith – A Perfect Circle.
If you were stranded on a desert island and could only take three thngs with you, what would those three things be and why?
A pocket knife.
Bacon.
Goggles.
You and Layla have been childhood friends forever, has there ever been a moment when you thought you might be attracted to her?
I'm not sure. It just sort of…happened.
What was your first thought when you met Layla for the first time?
I don't remember. It was when we were kids. I'm sure it was good, otherwise we wouldn't be friends now.
What's your best memory of Coney Island?
July 4th Freshman year. My friends and I copped the BEST fireworks.
How did you feel when you found out that you're heir to a kingdom that you never even knew existed?
Freaked. But at the same time, like I finally found something I could be good at.
Speed Round with a little This or That?
The Immortals or Underworld: Awakening? The Immortals.
Favorite Hobby? Sun bathing.
Album that describes your life? Don't have one.
Favorite Food? Meat.
Jennifer Lawrence or Kristin Stewart? *searches google* Jennifer Lawrence.
What's the strangest, most unpredictable thing that's ever happened to you?
You do know I'm a merman, right?
If you could take the TARDIS (sorry HUGE Doctor Who fangirl here!) back in time, would you? Where would you visit or what would you change?
*googles TARDIS* I think I'd visit Ancient Greece. I'd like to see what was really up with these Greek gods.
Want to win a copy of The Vicious Deep by Zoraida Cordova?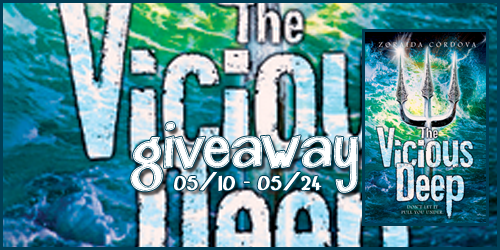 Thanks to Sourcebooks and Zoraida Cordova, I have one copy of The Vicious Deep up for giveaway to one lucky follower. You seriously don't want to miss out on this amazingly awesome "viciously deep" summer splashin' top of the to-be-read book pile. You'll laugh, cry, and really enjoy this sparkling mer-tale of wonder. The only rules are that you at least be 13 years or older, from US or Canada only, fill out the Rafflecopter below, and then reply to the email notifying the winner if you are chosen within 48 hours.
That's it, easy-peasy. You want that book now, dontcha?!
a Rafflecopter giveaway
Want to purchase a copy of The Vicious Deep by Zoraida Cordova?
You can do so by visiting my Amazon Store and adding them to your shopping cart. While you're there, feel free to look around, you might find something else you want. I hope you enjoyed reading my review of Shattered Dreams. I definitely suggest you pick up a copy for yourself or even for someone else, if you think they'll like it.
ABOUT ZORAIDA CORDOVA
Blog || Twitter || Facebook || Goodreads
Zoraida Córdova was born in Guayaquil, Ecuador. She made her way up north and now works in the glittering New York City nightlife. She likes shiny things like Christmas, merdudes, and the skyline at night. She's currently working on book #2.
Author information taken from her Goodreads.
{ This ARC was provided by Netgalley, in exchange for an honest review which I have provided. No money exchanged hands, I review books for fun because I love to read. I am not interested in monetary gain. Any piece of this ARC that was/wasn't quoted, is not part of the finished product and should not be perceived as such.}