The Testament of Jessie Lamb
by Jane Rogers
ARC Provided by Publisher via TLC Book Tours
Published Date: May 15, 2012
Publisher: Harper Perennial
Book Format: Paperback; pp 256
Age Demographic: Young Adult
amazon | b&n
A rogue virus that kills pregnant women has been let loose in the world, and nothing less than the survival of the human race is at stake.

Some blame the scientists, others see the hand of God, and still others claim that human arrogance and destructiveness are reaping the punishment they deserve. Jessie Lamb is an ordinary sixteen-year-old girl living in extraordinary times. As her world collapses, her idealism and courage drive her toward the ultimate act of heroism. She wants her life to make a difference. But is Jessie heroic? Or is she, as her scientist father fears, impressionable, innocent, and incapable of understanding where her actions will lead?

Set in a world irreparably altered by an act of biological terrorism, The Testament of Jessie Lamb explores a young woman's struggle to become independent of her parents. As the certainties of her childhood are ripped apart, Jessie begins to question her parents' attitudes, their behavior, and the very world they have bequeathed her.

Summary taken from Amazon.
❝My Thoughts❞
The Testament of Jessie Lamb is a powerfully suspenseful dystopian novel, that readers will be unable to put down. It is wonderfully engaging, full of so many questions, and terrifying realism underneath its own breed of chaos and destruction. The pages are full of consequences, actions, decisions, and determination through strength of courage and sacrifice. It's an unsettling world that Jane Rogers has penned, but an incredibly captivating and intoxicatingly dangerous one as well. The twists and turns are unpredictable, the characters are interesting and likable with their own personal flare, and the world building and main plot of the novel is very well developed and executed flawlessly.
Jessie is an incredibly determined heroine who is easy to relate to and likable. She's grown up in a scarey society brimming with biological terrorism. Human survival is pretty much at stake, when dealing with MDS "Maternal Death Syndrom" a virus that pregnant women have become very susceptiable to. It isn't known where the virus originated from, but the affects are extremely deadly laying waste to the brain cells of any pregnant woman that contracts it. Jessie has the strength of conviction and belief that she can make a difference, the only problem is that her father has a difference of opinion. She believes that she, along with her friends, can change the world and and help to find a vaccine for the virus in an effort to save the human race.
The Testament of Jessie Lamb is an incredibly compelling story filled with desperation and hope, for a better future. It's is chilling and suspenseful in many ways, which have readers on the edge of their seats catching their breath in anticipation of the outcome. The scary thing is, the events that are occurring in the novel are hauntingly realistic and could possibly happen in the near distant future. This book would make such a fantastic discussion for any book club, as it leaves readers questioning so many things going on within the pages. It was a deep riveting and wonderfully engaging read.

Amazing Dystopia Giveaway!!!
The only rules for the giveaway are that you must be from US or Canada only, be 13 years or older, and have a love for all things dystopian! That's it…easy peasy! Just fill out the Rafflecopter below and may the odds be ever in your favor. 😛
a Rafflecopter giveaway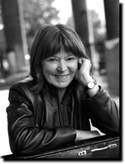 Jane Rogers has published eight novels, written original television and radio drama, and has adapted work (her own and others') for radio and TV. Her novels include MR. WROE'S VIRGINS, ISLAND, THE VOYAGE HOME, and most recently, THE TESTAMENT OF JESSIE LAMB, which made the 13-title long list for the 2011 Booker Prize. She has won the Somerset Maugham Award, the Writers' Guild Best Fiction Book, has been a finalist for the Guardian Fiction Prize, and is a Fellow of the Royal Society of Literature. She is Professor of Writing at Sheffield Hallam University, and lives near Manchester in the north of England.
Website | Goodreads | Facebook

Other stops for the tour can be found here.

This book was received from HarperCollins via TLC Book Tours, in exchange for an honest review which I have provided. No money exchanged hands, I review books for fun because I love to read. I am not interested in monetary gain.