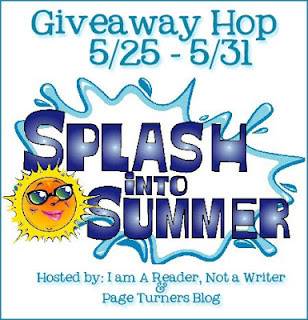 Welcome to the Splash Into Summer Hop!
Hosted by: I Am A Reader, Not A Writer and Page Turner's Blog!


May the odds be ever in your favor!

I have such an amazing time-travel, super romantic, and very emotional prize in store for you today. One lucky person (oooh la la) will win a super shiny ARC of Tempest by Julie Cross.

This is one of the BEST.BOOKS.EVER.WRITTEN. But, don't take my word for it, take Molli's @ Once Upon A Prolouge who absolutely adored it so much that she couldn't stop gushing about it. Here, check out her awesome review for Tempest.

And just for to quench your curiosity some more about the book, here's a little info on it for you!
Tempest by Julie Cross
The year is 2009. Nineteen-year-old Jackson Meyer is a normal guy… he's in college, has a girlfriend… and he can travel back through time. But it's not like the movies – nothing changes in the present after his jumps, there's no space-time continuum issues or broken flux capacitors – it's just harmless fun.
That is… until the day strangers burst in on Jackson and his girlfriend, Holly, and during a struggle with Jackson, Holly is fatally shot. In his panic, Jackson jumps back two years to 2007, but this is not like his previous time jumps. Now he's stuck in 2007 and can't get back to the future.
Desperate to somehow return to 2009 to save Holly but unable to return to his rightful year, Jackson settles into 2007 and learns what he can about his abilities.
But it's not long before the people who shot Holly in 2009 come looking for Jackson in the past, and these "Enemies of Time" will stop at nothing to recruit this powerful young time-traveler. Recruit… or kill him.
Piecing together the clues about his father, the Enemies of Time, and himself, Jackson must decide how far he's willing to go to save Holly… and possibly the entire world.
Summary taken from Goodreads.
Was that enough to wet your splashin' summer palate?!
The only thing you need to know about this giveaway is that it's easy-peasy to enter. Just be 13 years or older, from the US (sorry International's I'm still thinking up something for you guys!), and reply to the email that I send you (if you're one lucky soul winner…see what I did there?! lol) within 48 hours and you're totally good to go!
So, start fillin' out that Rafflecopter below! Oh, and good luck!!!!
a Rafflecopter giveaway
Don't forget there's tons of other blogs you'll want to hop on through!