Man, I'm all kinds of jazzed and excited to get be a part of the book blog tour for

Indigo Awakening

by Jordan Dane. Check out that amazing synopsis, color me all kinds of intrigued for sure! I cannot wait to dig in and devour it. So, check it out if you haven't already.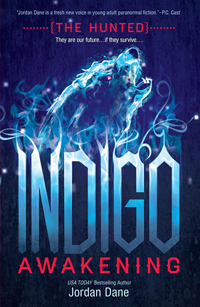 Indigo Awakening
Author: Jordan Dane
Published: December 18, 2012
Publisher: Harlequin Teen
Pages: 304
Age Demographic: YA
Genre: Parnaormal Sci-Fi
Because of what you are, the Believers will hunt you down.

Voices told Lucas Darby to run. Voices no one else can hear. He's warned his sister not to look for him, but Rayne refuses to let her troubled brother vanish on the streets of LA. In her desperate search, she meets Gabriel Stewart, a runaway with mysterious powers and far too many secrets. Rayne can't explain her crazy need to trust the strange yet compelling boy—to touch him—to protect him even though he scares her.


A fanatical church secretly hunts psychic kids—gifted "Indigo" teens feared to be the next evolution of mankind—for reasons only "the Believers" know. Now Rayne's only hope is Gabe, who is haunted by an awakening power—a force darker than either of them imagine—that could doom them all.
|

Amazon

|

Barnes & Noble

|

Book Depository

|

Book Trailer
Indigo Awakening
Jordan Dane

So, oh my goodness!!! I cannot even begin to tell you how AWESOMESAUCE this giveaway is going to be. You're just going to have to see this one for yourself.

HarlequinTEEN prize pack, includes (US only)
:
• INDIGO AWAKENING by Jordan Dane
• ON A DARK WING by Jordan Dane
• IN THE ARMS OF STONE ANGELS by Jordan Dane
• THE JULIET SPELL by Douglas Rees
• BELONGING by Karen Ann Hopkins (ARC)
• DANCERGIRL by Carol M. Tanzman
• 2 Harlequin notebooks
4 Infinity Bracelets (US only)
:

For anyone who has read an advance copy of INDIGO AWAKENING, you know that a silver infinity bracelet plays an important part in the story. Special bracelets will be given away on the virtual tour so the lucky winners will be part of Rafael's street family. Rafe's bracelet was in black leather, but I've added a white leather braid as my personal remembrance to you for being in MY family.
1 audio book of In The Arms of Stone Angels. Digital download only. (International)
a Rafflecopter giveaway
Holy Crow and EVERYTHING Bookish! You don't want to miss out on ANY of this GIVEAWAY!!!


About The Author
Bestselling, critically-acclaimed author Jordan Dane's gritty romantic thrillers are ripped from the headlines with vivid settings, intrigue, and dark humor. Publishers Weekly compared her intense novels to Lisa Jackson, Lisa Gardner, and Tami Hoag, naming her debut novel NO ONE HEARD HER SCREAM as Best Books of 2008. She also pens young-adult novels for Harlequin Teen. Formerly an energy sales manager, she now writes full time. Jordan and her husband share their Texas residence with two cats of highborn lineage and two lucky rescue dogs.
|

Website

|

Facebook

|

Twitter

|

Goodreads

|
Check out the rest of the tour!