Man, I'm all kinds of jazzed and excited to get be a part of the book blog tour for The Goddess Inheritance by Aimee Carter. But, I'm also kind of sad at the same time, because it marks the end of such a wonderfully and kind of awesome trilogy. This is definitely a series that you might want to think about snapping up, if you're a fan of Greek mythology that has a different narrative and interesting spins. I can't wait to see what Aimee Carter comes up with next. Whatever it is, I know it'll be definitely worth the wait and tons of exciting.
Love or life. Henry or their child. The end of her family or the end of the world. Kate must choose.

During nine months of captivity, Kate Winters has survived a jealous goddess, a vengeful Titan and a pregnancy she never asked for. Now the Queen of the Gods wants her unborn child, and Kate can't stop her–until Cronus offers a deal.

In exchange for her loyalty and devotion, the King of the Titans will spare humanity and let Kate keep her child. Yet even if Kate agrees, he'll destroy Henry, her mother and the rest of the council. And if she refuses, Cronus will tear the world apart until every last god and mortal is dead.

With the fate of everyone she loves resting on her shoulders, Kate must do the impossible: find a way to defeat the most powerful being in existence, even if it costs her everything.

Even if it costs her eternity.
| Amazon | Barnes & Noble | Book Depository |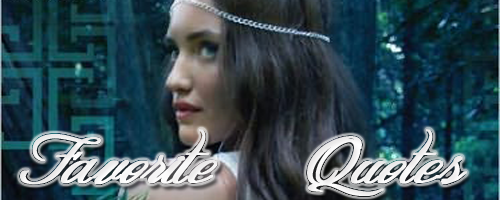 "What Makes the Goddess Series so Divine?"
For me what makes the Goddess series so memorable and divine, are some of the beautiful quotes and passages that make up the series as a whole. Aimee Carter's writing is wonderfully fun, rich, entertaining, as well as gorgeous sometimes. There have been a few times where I've been inspired by some of those passages and I thought I'd share them with you today and see what you think.
"Keep trying until you have no more chances left."
"Sometimes we misjudge what is possible and what is not."
"Did you know," he said, his breath warm on my cheek, "that that is the first time anyone has ever told me they loved me?" Startled, I did the only thing I could think of—I kissed him again. "You'd better get used to hearing it more often, because I plan on saying it to you an awful lot."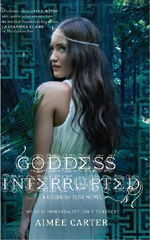 "It hurts being the one who loves more"
"Being with Henry doesn't mean you have to give up who you are. Henry doesn't define you."
"You never had to fight for me to begin with. I am yours and have been from the moment I saw you."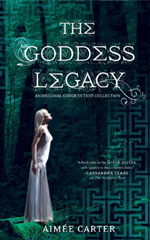 "In her he saw possibility. In her he saw the future. And when she was ready for it, he would be, too."

"It takes loneliness in oneself to recognize it in another."

"Love is the way I feel for you, the way you fill something inside me whenever you so much as walk into the same room. Sometimes love is quite, lingering in the background until you least expect it. But love it always there for you."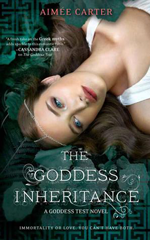 "Sadness doesn't equal weakness, sweetheart. If anything, it shows the love you have inside of you, and nothing stronger in this world exists."

"Live this love now," I whispered. "And never stop."

"I don't need to be ancient to be worth something."

| The Goddess Test | Goddess Interrupted | The Goddess Legacy | The Goddess Inheritance |

The Goddess Inheritance is a lovely send off to a wonderful trilogy that has captivated many readers. Anyone who enjoys Greek mythology with an interesting spin on narrative and various characters, will enjoy this series. It's a lighthearted and charming read, that is sure to entertain and wow fans of this series. Although, it's been a thrilling and exciting ride for Kate, everything that's culminated over the last two books, comes to a pretty good conclusion in this final installment of the trilogy. Aimee Carter's top notch writing style and wonderful narrative will definitely pull readers in and breathless with anticipation as they thumb through the pages.
Throughout this whole entire wonderful series, all of Carter's characters have been brilliantly complex and wonderfully entertaining. It was interesting to finally see what Callipe and Cronus wanted from Kate. Callipe wants Henry and Cronus wants what is Henry's, which unfortunately for Henry and much to Kate's dismay, turns out to actually be Kate. So, both he and Calliope team up and work together to kidnap Kate and set their plan to obtain what they each want into motion. It ends up turning into a wild and crazy exciting, but very fun rollercoaster ride of emotion.
Aimee Carter explores the delicate territory of love, sacrifice, and compassion in such an emotionally well balanced and simple way. These are the the wonderful aspects of the book that make it out stand out and shine, as a final chapter to such a well written and enjoyable trilogy. These are also wonderful attritubes to the characters as well, which make them even more likable and easy for readers to connect with on an emotional level. Love, sacrifice, and compassion sort of becomes their quiet vulnerable strength in such a fantastic way that makes them shine on the pages, particular in Kate's sense of self. The different perspectives on the myths are also what gives this final book in this series the pop and zing that it needs.
This trilogy is a must read for anyone who enjoys Greek mythology. They'll definitely want to snap it up and enjoy it.
| Goddess Interrupted Review | Special Q & A with Aimee Carter |

Want a chance to win any one of the books in the Goddess series by Aimee Carter?! Stick around and check out the giveaway below.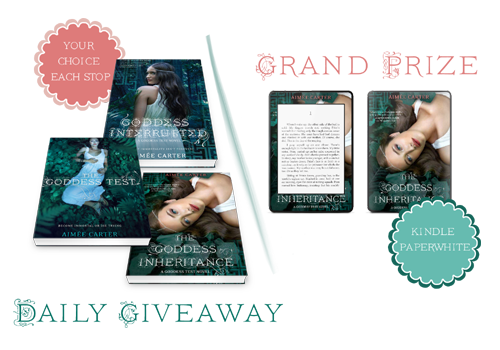 a Rafflecopter giveaway
All entries into the daily give away count towards the grand prize give-away of a Kindle Paperwhite skinned in the gorgeous and lush The Goddess Inheritance cover art!
a Rafflecopter giveaway
Holy Crow and EVERYTHING Bookish! You don't want to miss out on ANY of this AWESOMELY DIVINE GIVEAWAY!!!

Aimée Carter was born and raised in Michigan, where she currently resides. She started writing at age eleven and later attended the University of Michigan, graduating with a degree in screen arts and cultures. Currently she spends her time continuing with The Goddess Test series and working on new projects. You can tweet her at @aimee_carter or catch updates on her website.
| Website | Facebook | Twitter | Goodreads |
Monday, January 28th – Harlequin Paranormal Blog
Wednesday, January 30th – Alison Can Read
Friday, February 1st – Mundie Moms

Monday, February 4th – Soul Unsung
Wednesday, February 6th – Starry Eyed Revue
Friday, February 8th – Two Chicks on Books

Monday, February 11th – The Story Queen
Tuesday, February 12th – Simply Infatuated
Wednesday, February 13th – Me, My Shelf and I
Friday, February 15th – IB Blogging