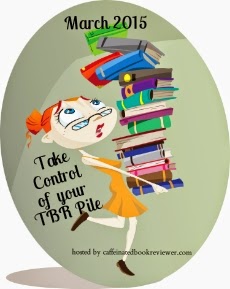 March 2015 Take Control of
Your Reading Pile
Hi guys, I'm excited to be participating this year in

March 2015 Take Control Of Your TBR Pile

challenge that

Kimba @ the Caffienated Book Reviewer

is hosting this year. I thought it would be the perfect way for me to put a dent in my TBR stack that's getting out waaaaay of control. I saw several people that I follow on a regular basis doing it last year and actually getting through a pretty good amount of their TBR pile and I was like, yep…this year, I'm doing it!
What you do is pretty much ditch your ARC's and eGalley's during this month and only read books that were released before March 2015 and have been on your TBR pile for quite a while. They can pretty much be anything that you want to read, digital books, audio books, physical, etc. I'll actually be using the time during the month to focus on finishing up a few of the series that I am behind on and really want to be finished with this year. So, it's definitely going to work out perfectly for me in that respect and it's a challenge that I feel like I'll really be able to keep up with and make some progress in. I'll be using this post as the master post, where I'll be linking up reviews to all of the books that I'll be reading this month for this particular challenge and keeping track of them.


Link-up!

This is open to everyone. If you do not have a blog then link your Facebook or Goodreads account.
Make a Goals/updates/Results post (can be combined). On Goodreads create a folder for

Take Control

and share your intentions on your wall.
Begins

March 1st, 2015

and ends

March 31, 2015

at midnight.

Read/listen to books from your TBR pile .

ALL

books must have been published

before

March 2015.
Post a review to Goodreads, your blog or Facebook then link it to the Rafflecopter for an entry. (

mini review

)

You can combine events, challenges etc.

No novellas for this one peeps.

The rafflecopter will only allow you to enter up to two books daily, so update as soon as you finish a book.

Earn an extra entry for adding

Take Control Button

to your blog, or facebook (with link-back)
Use hashtag

#TakeControlTBR

Twitter Party and read-a-thon will be announced to help you reach your goals.

Rafflecopter will close on

April 2, 2015

at midnight and a winner will be chosen within 72 hours. Open internationally as long as Book Depository/Amazon/ Barnes and Noble ship to you. Prize:

New 2015 release valued at up to $20.00.

I will do pre-orders as well. (may request eBook or Audible audio copy)
So, what are you guys planning on reading or what are your goals for this challenge? Let me know in the comments below, good luck!