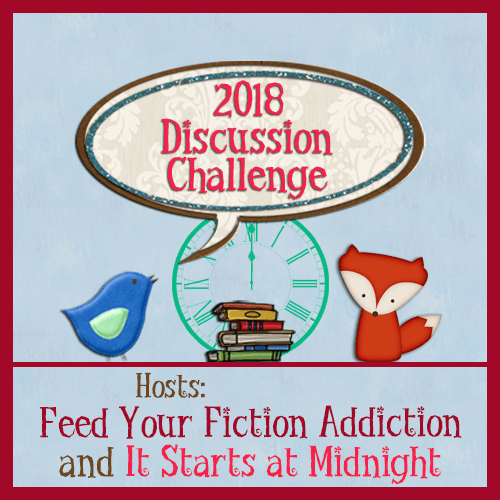 The 2018 Book Blog Discussion Challenge is brought to you by two amazingly awesome ladies Nicole @ Feed Your Fiction and Shannon @ It Starts At Midnight. The goal of this challenge is to post more discussion topics on your blog as you can throughout the year in an effort to get you discussing…BOOKS! Annnnd, also getting you to start them, dive into them, and share them with other's too.
Now, I'll admit being that it's nearly August and I'm getting ready to start the Fall semester in less than a month (yikes!), I'm definitely getting a late start to the challenge. But, in my defense, I have been on a break from my blog for quite some time since I made the decision to go back to college. So, yeaaah, there's that! It's totally not going to stop me from jumping right straight in and having a little fun with this challenge, though. So, here's the what you need to know about this challenge and you'll be all set.

This challenge runs from January 1, 2018 to December 31, 2018 and sign-ups will remain open until 11:59pm, so you can join at any time this year.
Just create a sign-up post announcing your intention to participate in the challenge and link up here.
Don't forget to link back to both challenge hosts and include the challenge button, that's kind of important.
At the start of every month a new post will go up on both blogs for that month's posts. Every month, an update will be made to the 2018 Book Blog Challenge Page with the links to that month's Challenge linky.
Share! Share! And, share! The more people that share it and participate in it, the more people will hear about it and want to participate in it too.
Monthly giveaway's will happen and one random participant will have one of their discussion posts featured too. Kind of awesome, huh!?
Also, don't forget to use #LetsDiscuss2018 to share the progress you're making with this challenge and to connect with other's who are participating too.

Okay, now that that's out of the way, I know I gotta be a little bit realistic here since I've joined this challenge so late in the year and I'll be going into Fall semester very soonish.

So, here's the deal, I'll be challenging myself to get at least 10 discussion posts up on the blog over the next five months. The reason I'm starting with the smallest number is because I know that I'm going to be busy with Anatomy&Physiology and I might not have as much time on my hands to devote to this challenge as I would like to and partially because I tend to have a hard time coming up with ideas for discussion posts so I thought I'd start off easy and then see where I go from there.

I already have at least four or five ideas for upcoming discussion posts, so I feel pretty confident about this. We'll see, time will only tell. lol.