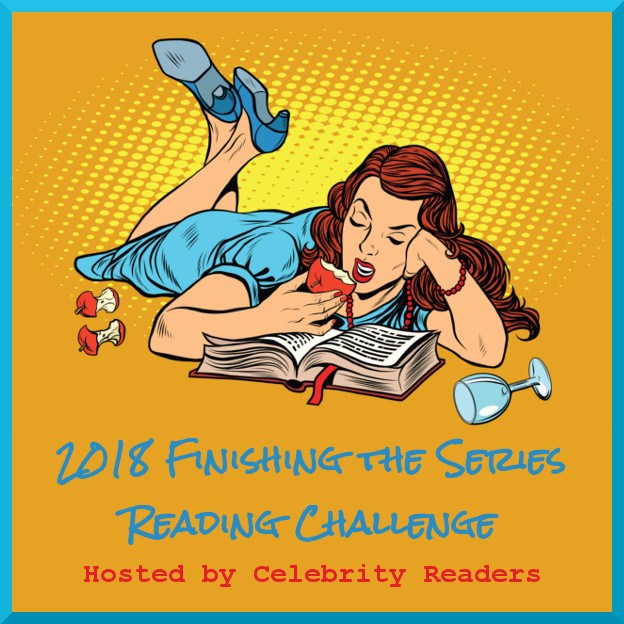 The 2018 Finishing The Series Reading Challenge is being hosted by these two amazing ladies Carla & Lenoreo @ Celebrity Readers.
I don't care even that it's so late in the year and I'm only just discovering this challenge, because I FREAKIN' LOVE IT! Yes, please, because I have SO MANY series that I need to finish reading and I absolutely DON'T have enough time to do it. Looking at my bookshelves, it makes me crazy knowing that I've started so many series and I haven't even gotten around to finishing them up, like The Mortal Instruments series by Cassandra Clare or The Program by Suzanne Young, which I'm actually in the middle of trying to finish the series. So, I definitely know what series I'll be working on for sure.
But before I get into all of that, let me tell you how you can play along.

Declare your intentions to participate in this challenge somewhere on the internet!! You do not need to be a blogger to participate, there are many ways to declare. You could write a blog post, create a reading challenge page, create a Goodreads shelf containing series you hope to finish, post about it on Facebook, Twitter, Instagram, etc.
Some things you could include (but that aren't required): A link to their page so other's can find the challenge, a list of series you might want to read for this challenge, and/or the level of the challenge your're going for.
Sign up for the challenge using the link up below, and link directly to where you've declared your intentions (ie to the specific blog post, the goodreads shelf, the facebook post, etc).
They will be posting monthly link ups for you to add links to your reviews or any wrap-up/overview posts you wish to share.
Use the hashtag #FinishingTheSeries2018 on any social media to keep up with other participants!
For more about the guidelines check out this post.

Since I'm forever a C-Lister, I'm just going to shoot for three to four of the series that I have the best shot at finishing up and once I do that, we'll see where it takes me from there. So, here are the series that I'm definitely planning on finishing this year, for sure.
The Mortal Instruments series by Cassandra Clare: I only have two books left in this series to read, City of Lost Souls and City of Heavenly Fire and I'm going to make it happen. Don't even ask me, because I can't even begin to tell you where I just sort of lost interest in this series and it's not because I don't like it. I actually really LOVE IT A LOT. It's just crazy, ya know. I also have the The Dark Artifices series to get caught up with and finish, as well as the The Magisterium series. Not to mention a couple of the anthologies and the manga's. This is literally insane and kinda sad, actually. lol
The Program series by Suzanne Young: Since I'm currently reading The Adjustment I only have one more left in the series before I finish, which is The Complication. I have loved this series from the moment that I started reading it, because it's so intriguing and dark to read about an intense world where suicide is an epidemic and the cure could be erasing everything that makes someone who they are or manipulating their memories in such a way that they may never recover at all and could still ultimately die in the end. It's such a bold and daring series that explores the scary significance of life and death and the way that it affects us as individuals and the world around us. Suzanne Young is definitely one of my go-to author's.
The Bone Season by Samantha Shannon: I definitely need to finish the ARC of The Song Rising since I'm about half-way through it and I've only been reading it since December of last year. Yeah, I know. Absolutely appalling, I know. You don't even have to tell me, I already know it. I cannot even begin to tell you how much I literally LOVE this series and the world that this author has created, so much. I mean, it's so intriguing, dark, and deliciously spectacular and I honestly can't wait to dive back in or for the next book to be out next year. I think part of the reason I wait so long to read the books in this series is, because there is a year's wait in between each book and I hate it when I hurry up and devour a book that I've been waiting on pins and needles for ages for only to have to wait 12 agonizing months before the next one appears on the shelf or I'm lucky enough to get sent an ARC of it for review. lol. I know, I'm a horrible wretched human being, aren't I? lol.
The Dark Caravan Cycle series by the incredibly talented Heather Demetrios: I originally read and reviewed the first book in the series, Exquisite Captive back in July of 2014 (wow! talk about coming full circle, lol) and for some reason I didn't keep up with it even though I absolutely fell in the with the story. So, I'm definitely going to be trying to wrap the series up this year by reading Blood Passage and Freedom's Slave. I just love how dark, captivating, and beguiling this world she has created is and I can't wait to see what happens next.
That's four series with a total of 7 books that I'll be trying to finish up throughout the rest of this year and I feel totally confident that I can do it. I honestly don't think it will be all that hard, even with the Fall semester of college starting up next month. I still believe that I can manage to pull this off for sure.