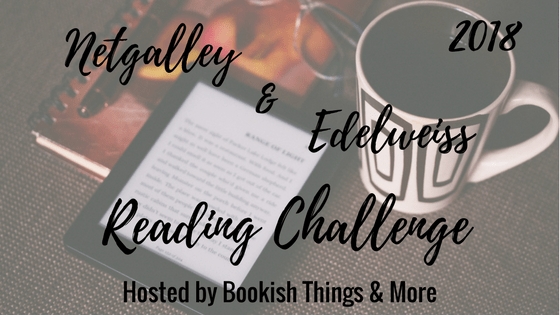 The fifth annual 2018 Netgalley & Edelweiss Reading Challenge is brought to you by the awesome Katrina @ Bookish Things And More. I don't know about you guys, but sometimes I look at both of my Netgalley and Edelweiss accounts and I feel so overwhelmed because I know I've got way more review books requested than I can read and review at a time and I usually end up feeling guilty because I just don't have the time to get to all of them. So, that's what I kind of love about this challenge. It's sort of going to give me that chance, so that I don't have to feel like crap about it.
I'ma do this! Cause…yeah! lol

The challenge will run from Jan 1, 201 – Dec 31, 2018.
Anyone is welcome to join. You do not need to be a blogger, just post your reviews and come back every month to link them up.
Any genre, release date, request date, length, etc. counts so long as it came from Edelweiss or Netgalley.
At the beginning of each month there will be a roundup post for you to add your reviews.
If you forget to link up one month it's not a problem just add your reviews next month.
If you would like to move up or down levels that is completely fine and at your discretion.
If you have any questions tweet me @BookishThings or e-mail bookishthingsandmore@yahoo.com!
Hashtag: #NGEW2018

There are a few different levels that you can choose from, but I think for now I'm going to play it a little safe and stick with the first one and try to get at least 10 of the reviews books between Netgalley and Edelweiss read and reviewed. If I split the number between the two, I feel like that will be a pretty good start to making a dent in all of those books I still need to slog through and review.