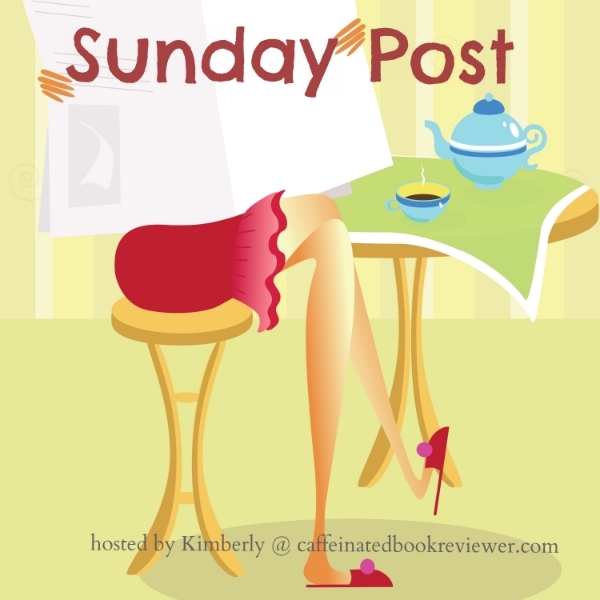 The Sunday Post is a weekly meme hosted by the lovely Kimberly @ Caffeinated Reviewer inspired by the Story Siren's In My Mailbox. It's a chance to share any bookish News that you find interesting or even just want to. It's basically a post to recap the past week, showcase some of the books and things that you have received and share some news about what's coming up for the week on your blog. This is your news post, so don't be afraid to personalize it! Post as much or as little as you want to. Be creative, if you're a Booktuber then it can be a vlog or if you're a Bookstagrammer it can just a showcase picture of some of your bookish goodies over there. Don't forget to link up once a week or once a month, it's up to you – you get to decide. Book haul's can definitely include library books, yard sale finds, arcs and bought books..share them with with us so we might find new author's and reads we'll like too!
Here's how you can participate in this awesome little meme.
Enter your link on the post- Sundays beginning at 12:01 am
(CST) (link will be open all week)
Link back to Kimberly @ Caffeinated Reviewer
Visit others who have linked up

A Week in the Life of Bookish Revelations…
I talked about how I've been blogging about books on and off for the last 7 years and how crazy that is earlier this week on the blog in a new feature I've come up with called, Rewind Wednesday's. It's been a long, strange, and kind of amazing trip from where I started out to where I am now. Originally I started out blogging through the Blogger platform and my blog had a different name that had a different (but special) meaning that really resonated with me. Now, I'm finally self-hosted and I've changed the name of my blog to something that I feel like truly represents who I am as an avid book reader, blogger, and overall person in general.
So, what's been going on with you, you ask?
Well, I've been hard at work giving my blog a major overhaul, basically just trying to make it reflect who I am as a person and what I want it to say about my love of all things…BOOKS! Which, is really what we're all here for, right? I have a lot of fun things that's going to be happening on the blog in the next coming weeks that I'm excited for, like my new feature Rewind Wednesday's, up-coming blog discussions that I can't wait to post, more book reviews, a few reading/blogging challenges that I'm participating in, and more book reviews of course. So, definitely stick around for the up-coming attractions.

The Weekly Happenings on Bookish Revelations
Book Review: As You Come Undone (Walker Brothers, #3) by Molli Moran
2018 Book Blog Discussion Challenge
2018 Netgalley & Edelweiss Reading Challenge
Rewind Wednesday's: Book Review for The Replacement by Brenna Yovanoff
2018 Finishing The Series Reading Challenge
#001 Can't-Wait Wednesday featuring The Gilded Wolves by Roshani Chokshi
Book Blitz + Giveaway for Legend of Me by Rebekah L. Purdy
2018 Beat the Backlist Reading Challenge

All the Bookish People Around the Blogosphere
I thought I'd take the time to share some new bookish buddies that I met through the Can't-Wait Wednesday meme hosted by Wishful Endings, because everyone needs a little bit of love thrown their way and these bookish friends are awesome!
Olivia @ The Candid Cover
Ashley @ Bookish Realm Reviews
The Sassy-Brit @ Alternative-Read
Verushka @ Edit Everything
Destiny @ Howling Libraries

The Week Read on Bookish Revelations
This was an amazing book, but then again I feel like anything that Suzanne Young has written or will write is always going to be amazing. I only have one more book left in the series before I finish it completely, which is The Complication and I'm actually reading that right now. I have loved this series from the moment that I started reading it, because it's so intriguing and dark to read about an intense world where suicide is an epidemic and the cure could be erasing everything that makes someone who they are or manipulating their memories in such a way that they may never recover at all and could still ultimately die in the end. It's such a bold and daring series that explores the scary significance of life and death and the way that it affects us as individuals and the world around us. Suzanne Young is definitely one of my go-to author's.

Currently Reading on Bookish Revelations
I'm only a fourth of the way into this book and already my heart is just smashed and my adrenaline is pumping to find out what's going to happen next. I'm excited to see how this series is going to wrap itself up and I'm wondering if the author is planning on another book in the series or if this really is the end of it, because I have loved every single minute of immersing myself into this world as stark and harrowing as it has been, it has also been just as cruel and beautifully written.

Wanting to be Read on Bookish Revelations
Since I'm trying to finish up a few book series or at least get current with one of them until the next book releases, I'm definitely wanting to read The Song Rising by Samantha Shannon. It's the next book in the Bone Season series and I can't wait to see what happens next and I'm also trying to knock out some of my Netgalley reviews as well, so I'll be reading Even If I Fall by the lovely and talented Abigail Johnson who is a new author to me and I kind of can't wait because this book looks like it's going to be a really fantastic read and great fit for the blog.

Link Up and share your Sunday Post at The Caffeinated Book Reviewer
Don't forget to play along with your week or month in review and link your post up over at Kimberly @ The Caffeinated Book Reviewer and visit other bookish blogs to find out the happenings going on within the book blogging community and leave me a little bit of comment love letting me know what's going on in your bookish week, because I want to know. 🙂
Tell me, what are you currently reading, wanting to read, or have finished reading? Leave a comment below and let's discuss all things bookish!