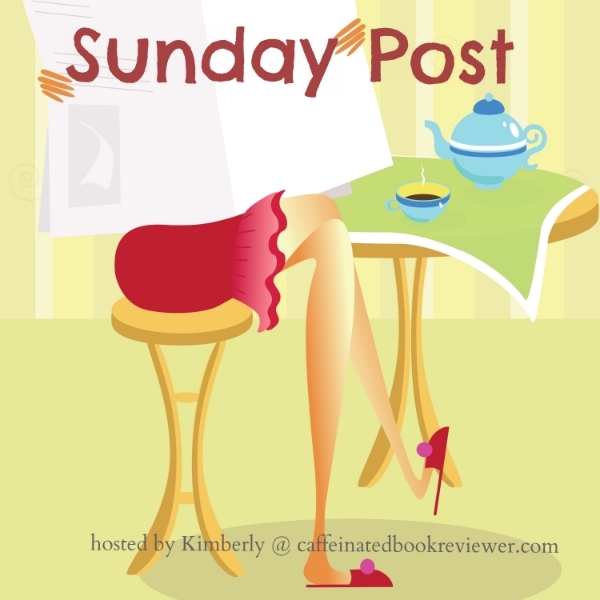 The Sunday Post is a weekly meme hosted by the lovely Kimberly @ Caffeinated Reviewer inspired by the Story Siren's In My Mailbox. It's a chance to share any bookish News that you find interesting or even just want to. It's basically a post to recap the past week, showcase some of the books and things that you have received and share some news about what's coming up for the week on your blog. This is your news post, so don't be afraid to personalize it! Post as much or as little as you want to. Be creative, if you're a Booktuber then it can be a vlog or if you're a Bookstagrammer it can just a showcase picture of some of your bookish goodies over there. Don't forget to link up once a week or once a month, it's up to you – you get to decide. Book haul's can definitely include library books, yard sale finds, arcs and bought books..share them with with us so we might find new author's and reads we'll like too!
Here's how you can participate in this awesome little meme.
Enter your link on the post- Sundays beginning at 12:01 am
(CST) (link will be open all week)
Link back to Kimberly @ Caffeinated Reviewer
Visit others who have linked up

A Week in the Life of Bookish Revelations…
This week has been CRAZY to say the least, but it has also been quite productive in terms of the blog, getting ready for Fall semester which is about to start in a little over two weeks, and getting myself focused and my rooms as organized as I can. I've been thinking about social media a lot these last few days and in some ways, I almost feel like it's getting to be a bit too much. Like, I know we're all trying to be more socially aware of so many things going on in the world and voice the changes we feel should be happening, but at the same time it feels like if you have something to say that's different then your opinion isn't really wanted or needed. Maybe a difference of opinion on some issues isn't necessarily a bad thing, maybe it's just what it is – a difference of opinion. I'm thinking, we're all adults here and we should be able to have these conversations without other's feeling as if they're being attacked or even being scrutinized in the face of so many things going on out there.
I haven't read as much this week as I would have liked to or had actually planned on doing, but I've still got the rest of the weekend and next week to pick up the slack. I feel myself making plans and then my mood comes barging in and says, "Hold up, that's not gonna be happening. We're going to read this instead…". You ever just have those days?

Here's what you need to know about this week's happenings on Bookish Revelations…
#001 TELL ME SOMETHING TUESDAY | HOSTED BY RAINY DAY RAMBLINGS
CAN'T-WAIT WEDNESDAY #002 FEATURING: WE HUNT THE FLAME BY HAFSAH FAIZAL
REWIND WEDNESDAY'S #002: DISCUSSION OF WHETHER TO POST NEGATIVE REVIEWS OR NOT?
BOOK BLITZ FEATURING FRAGMENTS OF ASH (A MODERN FAIRYTALE, #7) BY KATY REGNERY
BOOK BLITZ&GIVEAWAY: THE FEAR OF FALLING BY AMANDA COWEN

All the Bookish Things Around the Blogosphere
I want to take a minute and talk about something that's been happening on Twitter for the last couple of days, because it's been pretty AMAZING. I don't know if you guys are familiar with the hashtag #bookishwish or bookishwishph, but there has been SO MUCH generosity happening and the out pouring has been simply PHENOMENAL. I am so not exaggerating, because this is exactly what I LOVE about the bookish community. So, what am I on about, you ask?!
I would tell you all about it, but I think that JJ @ This Dark Material, Rain @ Book Dragonism, Shealea @ That Bookshelf Bitch, The Sassologist, and Paige @ Books and Belle could do a much better job than I could. So, I'm just going to bow to them for the moment, but let me just say this – it is really amazing to see people being so damn GENEROUS as to share the books that they have with other's and to be making a CONSCIOUS effort to try and grant other blogger/reviewer/bookish individuals within the #bookishwish hashtag their wishes just because they are able to do it and they just want to share their love of books with other's. It's even more exciting and amazing that they are taking it one step further and making sure that other's who are outside of the US and can't easily get their hands on a A LOT of these books are getting them now, because someone is willing to ship them out to them – be it an ARC (new or of a backlist book), a pre-order of an upcoming book, a book that's already out, or just going through their own stacks of books and passing them on to other's who may come to love them as much as they did.

Currently Reading on Bookish Revelations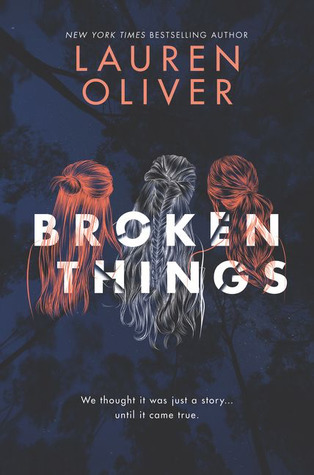 I'm not really that far into it, but it has been pretty good. The first sentence in the book, already has me hooked!

Link Up and share your Sunday Post at The Caffeinated Book Reviewer
Don't forget to play along with your week or month in review and link your post up over at Kimberly @ The Caffeinated Book Reviewer and visit other bookish blogs to find out the happenings going on within the book blogging community and leave me a little bit of comment love letting me know what's going on in your bookish week, because I want to know. 🙂