Rewind Wednesday's is a feature where I will be re-posting past reviews of books that I really enjoyed reading or re-posting old discussion posts with updated thoughts on them. If you would like to play along with me, just grab the banner and please share a link back to this page explaining what it is so that other's can discover it too.

I've read a lot of books by many different author's over the years, but Gayle Foreman has become one of my go-to-author's in the Young Adult contemporary genre. Before I started blogging about books, most of my reads were usually paranormal interspersed with a good sprinkling of sci-fi and dystopian post-apocalyptic type of books. I would even read a lot of autobiographies on various celebrities and people that I just found interesting and true crime novels. So, when I discovered Gayle Foreman and started reading her books, I took a chance and started reading outside of my comfort zone. I absolutely fell in love with YA contemporary fiction and started seeking out other authors like, Sarah Dessen, Deb Calleti, Katie McGarry, and many others.
There are so many fantastic authors that write in this genre niche that I'm just so incredibly impressed with and I wish I had more time in the day, to read all of them. But, alas, I don't and so I read as many as I can and try to get to the rest later. My favorite duology that Gayle Foreman has written is Just One Day, because it is a beautifully written magical story exploring the choices that we make as individuals and the random accidents that often happen in our lives. There is so much realness to it and the characters are so easy to relate to, that you can't help but fall in love with them, root for them, cry for them, get frustrated with them, and just feel with them.
I remember being incredibly nervous when I discovered there was going to be a book to movie adaptation of If I Stay, but when I finally saw it I think it had a little more impact on me than the book did because it just brought such an amazingly new emotional dynamic to these characters and their story that was being told that helped you as the viewer be able to connect with them on a more intense level than just reading the book. I don't say that very often about book to movie adaptations, because I'm a bit ambivalent towards them most of the time. But, in this case, I will definitely make the exception.

Title: Where She Went
Author: Gayle Foreman
Series: If I Stay
Age Demographic: Young Adult
Publication Date: April 5, 2011
Publisher: Penguin Young Readers
Purchase Links: Amazon | Barnes&Noble | Goodreads
It's been three years since the devastating accident . . . three years since Mia walked out of Adam's life forever.
Now living on opposite coasts, Mia is Juilliard's rising star and Adam is LA tabloid fodder, thanks to his new rock star status and celebrity girlfriend. When Adam gets stuck in New York by himself, chance brings the couple together again, for one last night. As they explore the city that has become Mia's home, Adam and Mia revisit the past and open their hearts to the future – and each other.

Told from Adam's point of view in the spare, lyrical prose that defined If I Stay, Where She Went explores the devastation of grief, the promise of new hope, and the flame of rekindled romance.

My Thoughts on Where She Went
First I would like to thank both Gayle Forman and her publishers for the digital advanced copy of this book that I obtained through NetGalley. I was truly excited the moment that I received the little email notification in my inbox; I think I sort of scared the rest of the patrons in the library that day.
I feel like I need to talk about If I Stay for a minute, because it was such an emotionally heartbreaking beautiful story that was told completely through Mia's eyes. It was her world, her story that she had to tell. And with Where She Went, the hat sort of tips to Adam and we finally get to see "where he went" in all of this – which, ironically I feel a little more excited for.
It's strange seeing the title Where She Went, when in my opinion, so much of the book was where he went, where Adam Wilde went when Mia left and how he found himself on a downward spiral slogging through his wasteland of heightened emotions and anger, grappling with the loss of her, falling out of love with the joy and electricity that his music once gave him, fighting with his band, dealing with being a famous rockstar and the obnoxious L.A. tabloids that he's become fodder for.
It was easy connecting with Adam and his pain, because I felt it with him. His despair, that aching emptiness that he felt; I felt it with him too and it hurt. It was easy to see how he had become so angry, a ball of frustration that was wound so tight he was about to snap. But amidst all of the sorrow and the pain, there was a tiny sliver of hope lying just below the surface. It was sort of a breath of fresh air, a breath of life.
I love the beautiful job that Gayle Forman did, in the way she so eloquently wove the past and the present together, piecing them just so that you could see how Mia's devastation and pain reflected in Adam's own pool of sorrow. What's so wonderful about both If I Stay and Where She Went is the fact that both of these books were written differently and could each be read as a standalone easily.</p/>
But, if I were you, I would read them both honestly. Start with Mia's story in If I Stay and then finish with Adam's in Where She Went. You will not be disappointed, I promise.

See the Movie Trailer for If I Stay by Gayle Foreman

Other Books to Check Out by Gayle Foreman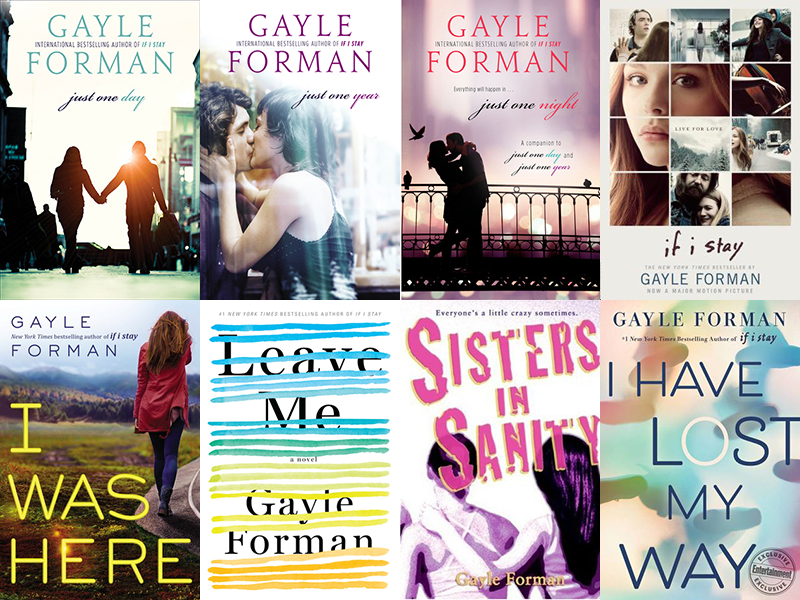 Website | Twitter | Facebook | Instagram
Award-winning author and journalist Gayle Forman has written several bestselling novels for young adults, including the Just One Series, I Was Here, Where She Went and the #1 New York Times bestseller If I Stay, which has been translated into more than 40 languages and in 2014 was adapted into a major motion picture.
Gayle published Leave Me, her first novel starring adults in 2016 and her latest novel, I Have Lost My Way, comes out in March of 2018.
Gayle lives with her husband and daughters in Brooklyn.

Have you read Where She Went? If so, then leave a comment below telling me what you thought about it.