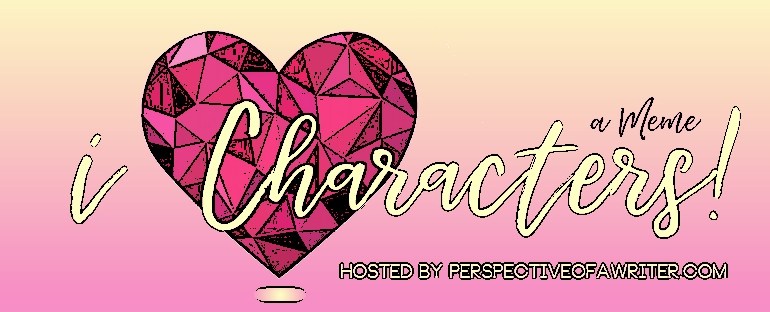 I Heart Characters! is a weekly meme hosted by Dani @ Perspective of a Writer to showcase our book blogger love for characters! Each week she'll supply a topic and you'll supply the character. Post on whatever day suits you, about characters from whatever media you love (books, movies, K-dramas, television, manga, anime, webtoons, whatever!) and link up on Thursday so YOU and others can blog hop and share the character love. ♡
Your mission, should you choose to accept it is to write about 300 to 500 words filled with your super undying, unending crazy love for your favorite character, whether it's from a movie, a television show, a book, a manga, or whatever. (Err, side note: I just totally wrote "mango" instead of "manga" for whatever reason, idk!) Anyway, back to what your mission is, tell us why you chose this character and how they relate to the topic, tell us where we can find this character, oh yeah and…shiny pictures and gif's will get you cookies!

This week's Topic Is: The Creature You'd Want to Adopt
Aliens. Yep, that's my type of creature and I'm sticking to it.
I pretty much love anything that is Sci-Fi or alien related. I will read it, watch, and enjoy it every single time and there are a number of books, movies, and television shows that feature them and I HAVE LOVED THEM ALL!
Oh, come on! Who wouldn't want to time travel with a mad man in a blue box hurling through space and time a million light years away from where they are?!
Everyone has their Doctor and I do too. My Doctor is Ten, because I so loved the story that he had to tell and David Tennant is just an amazing actor that does my heart happy. For me, this show came into my life at a time when I needed something like this to look forward to and it was exiting waiting for the next episode or the next Christmas special to happen. I loved the Doctor and Rose era, like no other and I remember writing on and on about my crazy love for them back when it was popular to have a livejournal and everyone blogged over there.
I loved them so much, that I actually tried my hand at writing some some Doctor/Rose fanfiction and I actually ended up being really proud of it. I was always afraid to write for those two, because for me they are just so big and so epic that I was afraid that I would get them all wrong and then inspiration sort of hit and I ended up with a small unfinished piece of fiction, that I never really was able to get back around to finishing.
Aliens are awesome. And so is Doctor Who and if you haven't watched it, then I suggest very strongly that you do!

What is your favorite creature for any book/movie/tv show that you would love to adopt and why? Comment below and let's discuss, don't forget to link up & share your post so other's can play along.