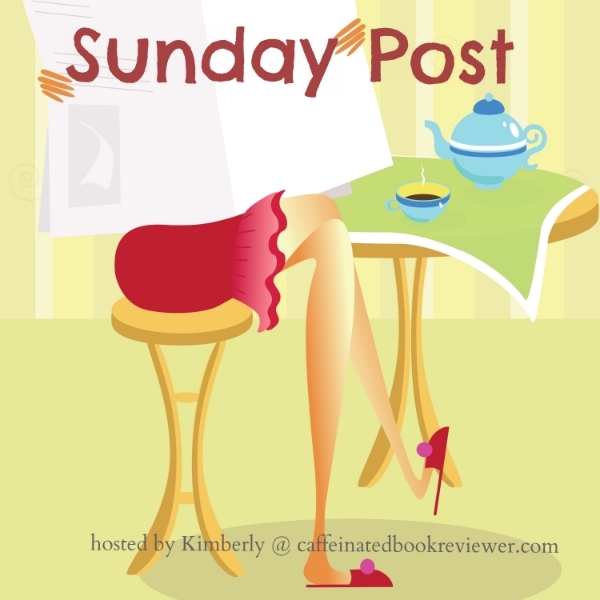 The Sunday Post is a weekly meme hosted by the lovely Kimberly @ Caffeinated Reviewer inspired by the Story Siren's In My Mailbox. It's a chance to share any bookish News that you find interesting or even just want to. It's basically a post to recap the past week, showcase some of the books and things that you have received and share some news about what's coming up for the week on your blog. This is your news post, so don't be afraid to personalize it! Post as much or as little as you want to. Be creative, if you're a Booktuber then it can be a vlog or if you're a Bookstagrammer it can just a showcase picture of some of your bookish goodies over there. Don't forget to link up once a week or once a month, it's up to you – you get to decide. Book haul's can definitely include library books, yard sale finds, arcs and bought books..share them with with us so we might find new author's and reads we'll like too!
Here's how you can participate in this awesome little meme.
Enter your link on the post- Sundays beginning at 12:01 am
(CST) (link will be open all week)
Link back to Kimberly @ Caffeinated Reviewer
Visit others who have linked up

A Week in the Life of Bookish Revelations…
I feel A LOT more productive this week than I was last week and it feels PRETTY GOOD. I feel like I'm getting my groove back and settling into blogging again. It's like I don't feel as much pressure on me to get things posted, scheduled ahead in advance, or just tidy'ed up. It just feels like it's all starting to come together for me, in a really awesome way. I've spent most of the week just making sure that I'm getting posts scheduled in advance, reviews written, and reading whenever I want to.
Even though the weather has been rainy, it's still gorgeous and I love that it is finally starting to feel like Fall is here or at least on its way. Days like this are the perfect days to just curl up and get in as much reading as you can or be as productive with the blog as you can be. I've gone through and made a whole list of posts that I have scheduled for the upcoming weeks featuring various different meme's, Rewind Wednesday's posts (some discussion/some older book reviews re-vamped), up-coming blog tours/book blitz, and other neat little fun tidbits that I think are going to be exciting.
I've decided that at the end of the month, I'm going to be doing some sort of a what I've read re-cap post talking about the books that I've read, what I'm actually currently reading, and what I would like to read the following month. It's in that post where I'm going to talk about how I'm working on cleaning up my Netgalley and Edelweiss shelves and some major decisions that I've made concerning them. Fall semester actually starts in one week for me, on Tuesday I start back and I don't want to feel like I have these TWO HUGE e-galley shelves mocking me, staring me down, and all but practically demanding that I devote all of my time and my attention to them and only them. I don't know about you, but that is way too damn much stress for me to want to contend with, especially since I'll be studying Anatomy&Physiology II with a lab attached to it. That's going to take up enough of my time as it is.
What I am going to do going forward, is to concentrate on the e-galley's from both Netgalley and Edelweiss that I need to read and write reviews for – the ones that I KNOW for sure – that I am truly interested in and really do want to read. I've culled both of those shelves back quite a bit and have sent out messages stating which ones I will and won't be leaving feedback on. I'm working to repair the nonsensical "oh-I-want-to-read-that" spree's that I went on, knowing full well I wouldn't have the time nor would I read half of the books. I'm now realizing my mistakes and the pressure that I have been putting on myself.
So, I'm thinking that re-cap may be called The State of my Shelves or something similar to that. I don't know, what do you tihnk? Any suggestions you might add to it?

Here's what you need to know about last week's happenings on Bookish Revelations…
BLOG TOUR&GIVEAWAY: EMBRACING THE DRAGON ( THE FLAMES OF KALLEEN, #1) BY K.L. BONE
BOOK BLITZ&GIVEAWAY: THE ROYAL ORDER OF FIGHTING DRAGONS BY DAN ELISH
CAN'T WAIT WEDNESDAY #004 FEATURING: THE DARK DESCENT OF ELIZABETH FRANKENSTEIN BY KIERSTEN WHITE
REWIND WEDNESDAY'S #003 FEATURING A BOOK REVIEW: WHERE SHE WENT (IF I STAY, #2) BY GAYLE FOREMAN
I HEART CHARACTERS #001 FEATURING: CREATURE(S) YOU WANT TO ADOPT

Here's what you need to know about this week's happenings on Bookish Revelations…
TOP TEN TUESDAY #001 FEATURING: BOOKS AND READING SLUMPS
CAN'T-WAIT WEDNESDAY #005 FEATURING: A CURSE SO DARK AND LONELY BY BRIGID KREMMERER
REWIND WEDNESDAY #004 FEATURING: DISCUSSING OUR FAVORITE BOOK/MOVIE/TV CHARACTERS
I HEART CHARACTERS #002 FEATURING: CHARACTER WHO'D RUN INTO A FIRE TO…
BOOK REVIEW: THE EPIDEMIC (THE PROGRAM, #3) BY SUZANNE YOUNG
THE SUNDAY POST #004

All the Bookish Things Around the Blogosphere
Kimberly @ The Caffeinated Book Reviewer is celebrating her 7 YEAR BLOGOVERSARY and I'm so happy and excited for her. That's such a FANTASTIC milestone for her to have reached and I know that she has put so much hard work and dedication into her blog. So, if you get a chance, definitely go over to her celebratory post and show her some love. You might even find a little giveaway over there.
Brianna @ Pages Unbound has recently talked about The Conflicting Priorities of the Book Community, which is an interesting and eye-opening take on buying new books vs utilizing the library, shopping in second-hand book stores or indie bookstores, and ARC's as well. It is definitely a discussion worth having and I discovered a couple of things that I didn't know. Sometimes, as hard as you try, you just can't meet every single need in a feasible way that works for you and I think that's part of what she was trying to say here.
I was looking around the blogosphere and I came across this amazing post discussing supporting international bloggers written by the lovely and inspired Marie @ Drizzle & Hurricane Books and I think that it's so important to acknowledge this as book lovers and avid readers/bloggers, as well as to do our best to help out in getting books into the hands of those who aren't able to the way those of us in the US are. So, if you get a chance, go over to her blog and participate in the discussion and see what you can come up with.

The Week Read & Currently Reading on Bookish Revelations
I finished reading Broken Things
by Lauren Oliver and it was AMAZING! No, seriously, it was one of THE BEST MYSTERIES that I've read in a long, long while. I seriously could not put it down, until I was finished with it. I love a great mystery that remains a mystery up until the you've read the final two chapters in the book and you are still scratching your head and trying to figure out the "who done it" scenario. Lauren Oliver definitely knocked it out the park with this book and I wasn't really expecting it to, but this book is probably going to end up being one of the year's best that I've read.
Now, I am reading The Black Coats by Collen Oakes and even though I'm not that far into it, just started it literally – I am absolutely enjoying it. This is going to be another amazing read that you'll definitely want to be looking out for next year.

Currently Watching & Obsessing Over on Bookish Revelations

I absolutely LOVED this series of books by the lovely and talented Jenny Han. It was so freakin' cute and a lot of fun to read, too. This movie was so, so, so good and I can't wait to watch it again. Plus, it gets bonus points for featuring an Asian main character and a love of reading. If you haven't seen this movie yet or read the books, then what are you waiting for?! Get to it, because you really don't want to miss out on one of the sweetest and cutest rom-com's ever.
Also, I just noticed the new gorgeous covers for the box set of The Complete Summer I Turned Pretty Trilogy: The Summer I Turned Pretty; It's Not Summer Without You; We'll Always Have Summer
. The look absolutely breathtaking and gorgeous and I fell so in love with this series, that I may or may not just have to splurge and buy this series and then donate, share, or just giveaway my older copies with the original covers on them. Yes, I'm going to need these gorgeous pastel colors on my shelf, sitting there all pretty.
Check out the Official Movie Trailer for To All The Boy's I've Loved Before
Also, thanks to Greg @ Greg's Book Haven I am now highly addicted to a Youtube Original, Impulse. If you love Sci-Fi, then you'll definitely enjoy this series. It sort of reminds me of Heroes in a way.
Here, check out the trailer for Impulse

Currently Binging on Bookish Revelations
Around this time every year, you can usually find me binge-watching one of my most favorite television shows of all time and definitely a guilty pleasure – Gossip Girl. Oh.My.Gosh. Words cannot simply tell you just how much I so adore this show. I've read all of the books and I've re-watched and binged on the whole entire show so many times it's unreal and for me, I feel like the tv show was so much better than the books.
Okay, okay…don't shoot me, but I just can't help it. I love it. All of the characters, the actors/actresses, and the crazy escapades. Plus, it has some of the best Thanksgiving and Christmas episodes in it. I think my favorite thing about it was the friendship between Blair and Serena, because it was so real and honest and crazy. But, it was also endearing, heartbreaking, and amazing. It was one of the best elements of the show.
"Dear Serena. My world is falling apart. My father left my mother for a thirty-one year old model. A *male* model. I feel like screaming because I have no one to talk to. You're gone. My dad is gone. Nate's acting weird. Where are you? Why won't you call? Why did you leave without saying goodbye? You're supposed to be my best friend. I miss you so much. Love Blair."
Blair Waldorf, is nothing if not loyal, to those she gives a damn about and she loves Serena. Even when she's falling apart, when she's most miserable, and even when she's angry and being extremely cruel to get her point across – she loves Serena. She still wants to be her best friend, because these two share a bond that no one and not even them – can break. She's intelligent, she loves to a fault, she has this habit of never really getting what it is she wants exactly, because it usually ends up falling into someone else's hands – mostly Serena's even when she doesn't want it or isn't looking for it. She hurts people and she gets hurt, in return. But, when she loves, she does it with everything in her and she doesn't know how to love them any less – even when she's loving the wrong person and discovering later, that what she thought she wanted and what she actually does want are two different things.
She is Queen B, be mindful of your step.
Oh, and the music! It has one of the best soundtracks ever, I discovered A LOT of awesome music that I never probably would have if it weren't for this amazing show showcasing it.

Link Up and share your Sunday Post at The Caffeinated Book Reviewer
Don't forget to play along with your week or month in review and link your post up over at Kimberly @ The Caffeinated Book Reviewer and visit other bookish blogs to find out the happenings going on within the book blogging community and leave me a little bit of comment love letting me know what's going on in your bookish week, because I want to know. 🙂