Rewind Wednesday's is a feature where I will be re-posting past reviews of books that I really enjoyed reading or re-posting old discussion posts with updated thoughts on them. If you would like to play along with me, just grab the banner and please share a link back to this page explaining what it is so that other's can discover it too.

Alright, this is the part where I say I LOVE IT WHEN BOOKS AND FANDOM COLLIDE, which gives you this discussion post wherein I flail about incessantly and wax my poetic undying love for ALL THINGS BUFFY! There's a book tie-in here somewhere, because Kiersten White has an up-coming new release Slayer, that is a brand new spin-off series set in the world of Buffy the Vampire Slayer. I cannot even begin to tell you HOW HOLY FREAKIN' EXCITED I AM about this, especially since she is one of my favorite young adult author's.
Want to know more about this amazingly awesome book, keep scrolling, and also don't forget to stay for the Rewind Wednesday's discussion post to follow. I know I can be a little long-winded when it comes to talking about Buffy the Vampire Slayer, but this is a world that the awesomely amazing Joss Whedon created that literally changed the way I television forever. I can't even begin to tell you the hours that I put into this crazy fandom and I don't regret one minute of it either.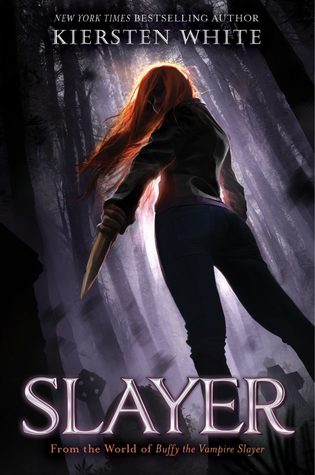 Title: Slayer
Author: Kiersten White
Series: Slayer. #1
Age Demographic: Young Adult
Publication Date: January 8, 2019
Publisher: Simon Pulse
Purchase Links: Amazon | Barnes&Noble | Goodreads
From New York Times bestselling author Kiersten White comes a brand-new series set in the world of Buffy the Vampire Slayer that introduces a new Slayer as she grapples with the responsibility of managing her incredible powers that she's just beginning to understand.

Into every generation a Slayer is born…

Nina and her twin sister, Artemis, are far from normal. It's hard to be when you grow up at the Watcher's Academy, which is a bit different from your average boarding school. Here teens are trained as guides for Slayers—girls gifted with supernatural strength to fight the forces of darkness. But while Nina's mother is a prominent member of the Watcher's Council, Nina has never embraced the violent Watcher lifestyle. Instead she follows her instincts to heal, carving out a place for herself as the school medic.

Until the day Nina's life changes forever.

Thanks to Buffy, the famous (and infamous) Slayer that Nina's father died protecting, Nina is not only the newest Chosen One—she's the last Slayer, ever. Period.

As Nina hones her skills with her Watcher-in-training, Leo, there's plenty to keep her occupied: a monster fighting ring, a demon who eats happiness, a shadowy figure that keeps popping up in Nina's dreams…

But it's not until bodies start turning up that Nina's new powers will truly be tested—because someone she loves might be next.

One thing is clear: Being Chosen is easy. Making choices is hard.

So, back in the day when I first started out blogging about my love of reading, there was a meme going around called Follow Me Friday that was hosted by the Parajunkee. The goal of participating in this meme was to connect you to other awesome book bloggers/reviewers and other cool bookish people too. So, you'd pretty much create a post on whatever day it was being hosted, link back to the host, share your link with other's, and answer the question of the week.
One particular week the question ended up being…
"ACK! Your favorite book/movie character (example Hermione Granger played by the Emma chick) just walked into the room! Who is it and what would be your first reaction? You get extra points if you include visual stimulation.?"
Which led me to this re-wind post, where I share my crazyinsanelove love for Cordelia Chase and Faith Lehane, two of my FAVORITE characters from the Buffy/Angel-verse.

So, I'm totally going old!school with this, and choosing my two hottest badass girls that totally kickass and take names later – ain't nothin' but a
Buffy
thang – give it up for
Cordelia Chase
and
Faith Lehane
. 'Cause we all know when it came to the cool kids, they were right at the top of their class. Like seriously, my love for
Charisma Carpenter
knows no bounds and I totally like, want to draw spikey hearts of barbwire around
Eliza Dushku
.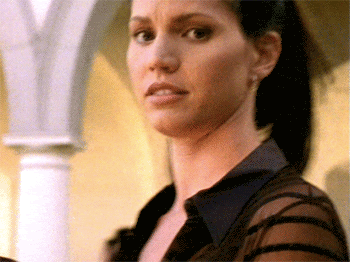 Meet Cordelia Chase, the nastiest bitch in Sunnydale history. Smart, snarky, intelligent, popular, and totally bitchy. I LOVE HER! Knew immediately the second Charisma showed up on my screen, she'd be my favorite actress ever, and Cordelia Chase would definitely go down in the books as one of my ALL TIME FAVORITE character's.

That Joss, he's such a freakin' genius, seriously. Because, he gave us a girl that gave the best "bitch please," facials and also, a girl who went from being possibly shallow, highly judgemental, and totally bitchy; who became a hero – someone who gave her own life up in order to save her friends and Angel. She didn't compromise when push came to shove, she just did what she had to do. And the best thing about Cordelia Chase, she wasn't some snively little cry!Buffy. Nope, she was the most feirce, badass, mother frelling kickass chick ever!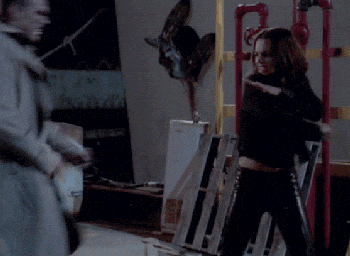 Faith, was always a force to be rekoned with. She just simply came out full swingin', kickin' ass, and takin' no prisoners. It is what it is, with her. She didn't whine, complain, or bitch around about the weight of the world being on her shoulders. She just did what she did and that was that.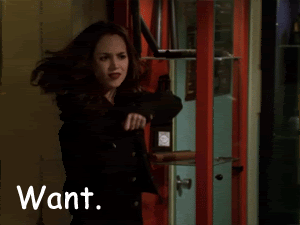 This is, what I loved so much about her. Of course, she got to be the bad girl, which was a lot more fun than being oh, I don't know…the responsible one, with the whole "actions have consequences." She grew though, as the show progressed. I think I liked her better on Angel in some instances, than I did on Buffy. But, then again, there was that scene in Bad Girls where the two of them dancing solidified my eternal love for all things Buffy and Faith, shipper wise. Chinese Burn, still one of my favorite songs to date, because of that scene.

So, tell me who your favorite book/movie/television character would be and why? Leave a comment so we can gush to our hearts content!