Rewind Wednesday's is a feature where I will be re-posting past reviews of books that I really enjoyed reading or re-posting old discussion posts with updated thoughts on them. If you would like to play along with me, just grab the banner and please share a link back to this page explaining what it is so that other's can discover it too.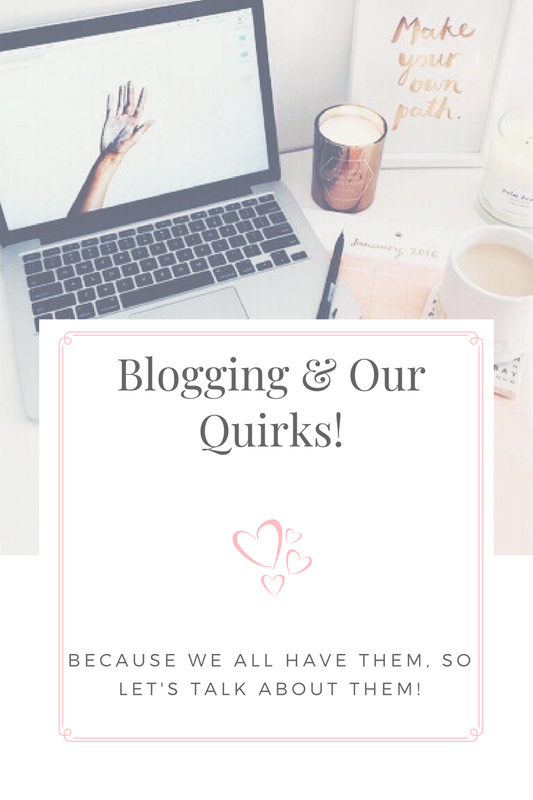 About four years ago, I participated in a 15 Day Book Blogging Challenge that was being hosted by the lovely April @ Good Books And Good Wine, where we discussed 15 different topics over the span of 15 days. At the time, I remember thinking that it was kind of an awesome idea, because it meant that I would be able to get more discussions on my blog which was something that I was having a hard time doing.
So, I thought I would share an updated and revised version of it with you today, because we all have our own unique and different blogging quirks, and I figured it could be fun to talk about them.
What are some of your blogging quirks?!
We all have them, even if we don't think we do. I know I have a few little crazy ones that have stuck with me (on and off for the last seven years of blogging about books) that have this tendency to niggle away at my thoughts and somehow sort of affect the way that I blog in general. Some are silly little things and some just really end up giving me all of the think-y thoughts.
So, yeah…my blogging quirks for you!
Post Formats. I like for all of my posts to have a specific format, like my review posts are done all the same way, my Can't-Wait Wednesday posts, my Top Ten Tuesday etc. They're all formatted pretty much the same way, because I like for there to be a little bit of structure to my blog and for the posts I make to look and feel at least half-way decent.
Pre-Scheduling Posts. In the past few years I've been incredibly rubbish about it, but lately I've been getting a lot better. I've been working on trying to get at two weeks worth of posts scheduled ahead of time, that way I don't get behind and feel like I have to massively play catch up like crazy or that I've forgotten that I was supposed to post this review or participate in that blog tour.
Reviews. Reviews. Reviews. I don't always write my book reviews immediately after I finish reading a book, because I'm the kind of person who likes to sit for a few days and mull over what I've just read. I don't know, it's just part of the way that I process things. I need to be able to put all of my feels into coherent thoughts instead of jumbled up messy gibberish and OMG's. I also don't always write reviews for every single book that I read, but I do try and at least rate them on Goodreads and write a couple of sentences about whether or not I liked the book.
Reading Challenges. I am absolutely horrid at keeping up with reading challenges in pretty much any capacity. The only one that I've actually been able to stick to is the Goodreads challenge (and within the past year or so, not even that) and that's because the site itself takes notes and marks down the books that I've gotten through and tells me how many more I need to read to meet my goal. I know, I should really try to get better at this. I am definitely going to try really hard to meet the the goals of all of the reading challenges that I've set for the back half of this year.
Comments. Sometimes I worry about whether or not my posts are being read, because I don't get that many comments and I don't know if people are passing them by or if they're reading them and just not leaving a comment. I know this totally goes both ways and in order to get comments you have to be good at leaving comments. Obviously, this is something that I definitely need to work on. At the beginning of this month, I was doing pretty good with it, but now I've been sort of slacking off and I need to motivate myself to get back into the swing of it especially since Fall semester is starting in about a week and a half.
Netgalley and Edelweiss. I am so behind on my reviews for these, that it's not even funny. I really need to get on the ball with this and make sure to take a particular month and dedicate it to both of these sites, the e-galley's I have for review, and the time to write and post the reviews for them.
Archiving Reviews. I am awful about updating my review archive and making sure that my coordinating Pinterest board is updated as well. I don't know, but I just am. Here's how I plan to remedy this, since I made the move from the Blogger platform over to Nosegraze I've created a feature called Rewind Wednesday, where I'll be revisiting old discussion posts and book reviews that I've written – that is going to help me with getting the older reviews from the old blog over here and looking a lot better and cleaned up and then hopefully from there I will be motivated with the new book reviews that I end up posting as well.
Booktube + Blogging. I love to film vlogs featuring the books that I've received for review, the books that I've bought, and/or checked out from the library. But, sometimes, it gets hard to always find the time to do this. Plus, between doing that and also trying to keep up with blogging in general, it's just ends up feeling a little impossible sometimes. I feel like I'm sacrificing one for the other and I don't really like that, so I usually just end up choosing the blog over booktubing for the moment and I'm totally okay with that.
Social Media + Blogging. I am not the worlds greatest at remembering to schedule my Tweets, Facebook, and Google + posts for the posts that I've already scheduled ahead of time. This is definitely something that I really need to work on, loads. When it comes to blogging, page views, and getting the comments – social media is definitely the way to go.

So, those are just a few of my blogging quirks, what are some of your's? I'm curious to know what they are, so share in the comments below.